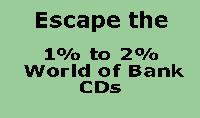 Tax-Free is Better: Sara's Story Demonstrates the Power of the Tax-Free IUL
Sara, age 68 Worried about Stock Market Losses has been Rolling over CDs, earning less than 1% on her money. We introduced Sara to the Tax-Free IUL, where you don't lose money when the markets go down.
Sara would need $3,400,000 in CDs to generate the same after-tax income that $300,000 invested and accrued for 4 years will produce based on projected returns that are below historical averages. Sara loved this safe income strategy.