Tax-Free IULs have been called the Perfect Retirement-Solution.

Tax-Free IUL eBook
• You don't lose money when the markets go down, so you are never digging out of an investment hole!
• You Share in Market Upside when Markets go up, up to a cap rate currently 13.5% to 16.0%!
• You'll Earn Reasonable Rates of Return!
• Your Gains are locked in annually, so you never give back profits already earned!
• Tax-Free Penalty Free Withdrawals at any age, the ultimate tax shelter!
• You can generate a Tax-Free Income You Won't Outlive!
Free Tax-Free IUL eBook Download 

↓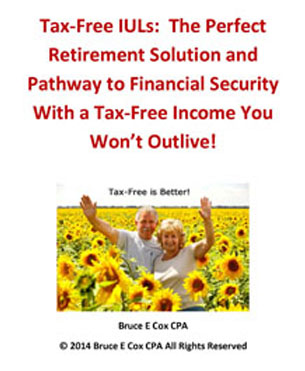 Free eBook download