Professional Athletes:  Secure Your Financial Future With A Tax-Free Solution
You have seen the stories, a staggering number of Professional Athletes and Entertainers filing Bankruptcy despite earning millions of dollars in salary or royalties. 78% of NFL players, 60% of NBA players and a large number of MLB players are bankrupt within 5 years of leaving the game. Plenty of Celebrities and Entertainers, actors, musicians, singers have joined the list too.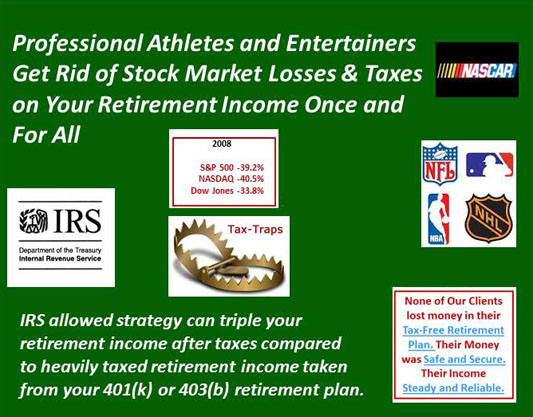 You can secure your financial future with a little known tax-free solution that America's wealthiest families use to preserve capital and cut taxes.
Imagine retiring at age 35 with $301,000 of tax-free income for life; or at age 40 with $384,000 of tax-free income for life. It's possible to make this happen with a little discipline. Beginning at age 25 you invest $500,000 per year for 5 years and average 7% per year on your money. Historical returns have averaged over 8%.
This little known strategy has flown under the radar for 20 years. Most advisors have never heard about the strategy or did not realize how powerful it has become.
It has been called The Perfect Retirement Solution and The 401(k) Replacement.
• You don't lose money when the markets go down, so you are never digging out of an investment hole!
• You Share in Market Upside when Markets go up, up to a cap rate currently 13.5% to 16.0%!
• You'll Earn Reasonable Rates of Return!
• Your Gains are locked in annually, so you never give back profits already earned!
• Tax-Free Penalty Free Withdrawals at any age, the ultimate tax shelter!
• You can generate a Tax-Free Income You Won't Outlive!
New eBook Explains How It Works
Kindle version https://www.amazon.com/dp/B00M0EQN0A
Free download and more videos /
• So, if you hate paying taxes and hate even more losing money in the stock market, pay close attention.
• If you are worried you won't have enough money to enjoy your retirement, this strategy will help you generate a tax-free income you won't outlive.
• If you want to implement a gifting strategy for your children or grandchildren, the tax- free IUL is a vehicle that can keep on giving with a lifetime of tax-free income.
• If you like the idea of having a tax-free emergency fund to tap as needed, the tax-free retirement plan is for you.
• If you would like to be your own bank, funding big ticket items with retirement funds, paying interest to yourself rather than a bank, this could work for you.
Fortunately, the tax-free retirement solution addresses all of the above.